Every Montessori Instagram account you follow has the Montessori Shelf with the beautiful Montessori toy shelf and toys displayed on it. Maybe you've wondered what all the fuss is about and whether the Montessori low shelf is really necessary. Does the Montessori shelf have benefits beyond its good looks? Read on to find out.
What is a Montessori shelf?
The Montessori Shelf also called a Montessori toy shelf/Wooden toy shelf/Montessori Infant Shelf or Montessori open shelf is an essential part of every Montessori classroom and home that follow the method. It is a low wooden shelf at the child's height and is used to display toys or developmental aids according to the child's needs and interests at that time.
A unique feature of the low Montessori shelf is that it doesn't have any doors and is designed in a manner that is open and accessible to even a slithering or crawling child. The rounded edges and purposefully done simple design ensure that your child's fingers don't get caught anywhere while accessing toys from this shelf. The Montessori infant shelf is designed around the Montessori principles of order, independence, and choice.
Order
Children under the age of 6 are undergoing a Sensitive Period for Order and this means that they learn things better if the environment around them is in orderly manner. If they know exactly where to find something when they are looking for it, they are likely to use it more. The Montessori open shelf helps feed the child's need for order because it is a designated space for the child to find their toy and keep it back.
Independence
Dr. Montessori said, "Never help a child with a task at which he feels he can succeed". Children yearn for independence and want to do things by themselves so they can be like the adults around them. Independence helps build self-esteem and confidence in the child. The Montessori shelf is designed in a way where even the youngest child can access their toys as soon as they begin moving. The display of toys at the low Montessori shelf at their level serves as a motivation for the child to slither/crawl or walk to it.
Choice
The display of their toys at their level in the Montessori Shelf also offers the child clear and limited choices. When children experience making choices from a young age, it builds cognition and makes them better at problem-solving and decision-making when they grow up. Making choices also builds confidence and makes children feel more in control of their lives which is another benefit of the Montessori wooden shelf.
What is the Montessori shelf for?
The Montessori method seeks to promote the child's independence whenever possible. To do this, it is necessary to furnish or decorate rooms with Montessori furniture. Montessori furniture is designed to be accessible to children. This means that Montessori shelves are built at an appropriate height so that they can reach all the toys and/or objects on the shelf.
There is no ideal height for shelves, as it depends on the age of the child, and the height of the child. So a shelf that may be suitable for a 6-year-old may be too high for a 2-year-old.
Does that mean that you have to change the shelves as the child grows?
You can, but you don't have to. Simply place your child's materials, games, clothes, or shoes at their height and use the top shelves (which they can't reach) to place items they don't need to use (for now).
Another characteristic of Montessori shelves is that they are open. There are no drawers or doors. In this way, everything on the shelves is visible to the children. If all the toys and materials are in view, it invites them to play or carry out activities.
Which Montessori bookshelf should you buy?
There are companies that sell Montessori bookshelves, although you don't have to go for these "pedigree" ones because there are many ordinary bookshelves that fit the criteria of a "Montessori bookshelf" and are cheaper and can be used in exactly the same way.
Compartments of the Montessori bookshelf
Having done this little introduction, the first thing to think about before buying a Montessori bookshelf is that it should not be full of toys or materials. The objects that you will place on the shelf will only be those that your child uses on a daily basis. Each type of toy and material should be in a separate compartment and sorted by theme.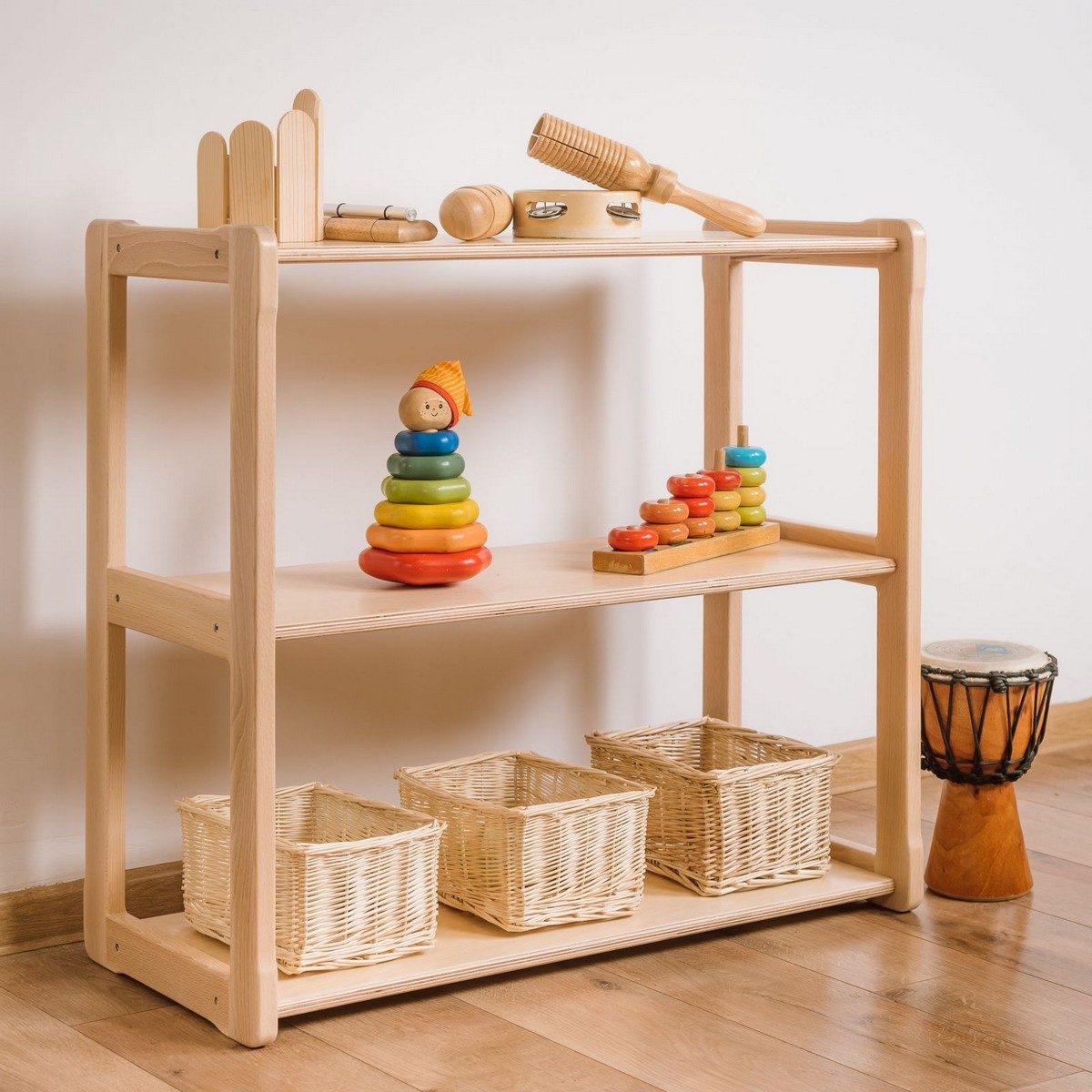 What do you do with the rest of the toys and materials that your child doesn't use?
Store them somewhere where they are out of reach and out of sight, such as children's storage furniture. The idea is that the toys and materials are placed in such a way that they are attractive to the child. It is like a kind of sideboard, a showcase.
If you overcrowd the shelving what will happen is that your child will not be so eager to explore what is there and will not play with that toy or material. With Montessori shelves, less is always more.
Height of the Montessori shelving
Once you are clear about the space you have available according to the number of compartments, you should stop to think about the height of the shelving. The shelves should not be higher than one metre. About 30-60 cm, for 1-2-year-olds, is ideal.
Remember that it is your child who has to use the shelf, not you. I tell you this because sometimes you make the mistake of looking at the furniture from an adult's perspective and thinking that the toys look beautiful on top of the shelf, but then it turns out that the child can't reach them.
Even if they can see what's on the shelf, if they can't reach it, it's no use, because they won't pay attention to that toy. Avoid this mistake at all costs (unless you put items on the top of the shelf that the child doesn't need or that are decorative, such as picture frames). Toys at the top of the shelf should be at the child's eye level.
Number of toys and order
The amount of material should be limited to the space and age of the child. For toddlers, ideally, there should be a maximum of 8-10 activities on the shelf. If you have more than 8-10 toys to put on the shelf, go ahead. But the space should be tidy, minimalist, and beautiful. It's not a fad. There is a reason behind this philosophy. A calm, beautiful, and organised space awakens a child's sense of order.
In fact, children go through a sensitive period in which they learn a sense of order at a very early age. You will be surprised to find that a child is not a chaotic creature who can only mess up.
If your little one can see and find all the materials and toys in an orderly, clean and simple way, it will help them to develop this sense of order. At the same time, it will make them more "hooked" on the activities you offer them and they will be able to concentrate more and better on them.
It is scientifically proven that people process information better and improve their mental processes in orderly environments. However, most adults are not able to keep their spaces free of mental noise, because they did not grow up in a Montessori environment and did not develop that sense of order.
When your child is clear about where on the shelf each object, toy, or material goes, it is much easier for them to pick up on their own. With Montessori shelving they will be able to put toys back in their place without you having to tell them; often children do not tidy up because they see so many objects that they become cluttered and are unable to find a way to re-establish order.
Variety of activities
Don't you pay attention to the toys that your child is most entertained with? Don't you stop to think about what is the best activity for him? Do you just give him the latest toy he has been given and that's it? With the Montessori method, you have to use the shelf strategically.
Place on the shelf only toys and activities that suit your child's age, motor, and cognitive development. Select toys and activities that work in different areas. For example, on one shelf place a toy that works on hand-eye coordination, on another on fine motor skills, on another on creativity, on another on language, on another on maths, on another on the sensory area, on another on activities of daily living, on another on musical instruments, etc.
Look at which toys they play with the least and replace them every X weeks. I put "X" because you have to determine the rotation time based on what you observe your child doing with the activities and toys.
There is no standard or "best" way to do it. Sit down once a week to find out which toys don't hold his attention; those are the ones you need to change. If you see that he plays with all of them, wait before rotating them.
Sometimes children don't play with a toy because it bores them, because they find it unchallenging, or, on the contrary, because they find it too complicated. Every child is different, so follow your instincts and observation.
Which Montessori bookshelf to buy if there are children of different ages at home?
My advice is that each child should have a shelf with their own toys and activities. You can combine shelves of different heights, they don't need to be identical, just that each shelf is adapted to the needs of each child.
Keep in mind that all toys are at an accessible height, so if there are any toys or activities with small parts that may represent a danger to your toddler, you should put them in a container that the older child can open without the help of an adult but the younger child is unable to do so. Or place the game or activity on a shelf that the older child can reach but the younger one cannot.
Our suggestions for Montessori Shelves at A Matter Of Style
Sources and References

Toys, A. (2021) The Montessori Shelf – Why, What and How's. Available at: https://arirotoys.com/blogs/useful-tips/the-montessori-shelf-why-what-and-hows