Before we dive into the benefits of weaning tables, it is important to understand the Montessori meaning of weaning which is a very important aspect of the child's development. This important milestone is a time when children can begin to independently manage their own eating habits. This is why weaning is a crucial time for parents to set a good example. In addition to allowing the child to eat their own food, parents should also demonstrate proper table manners. By following these simple steps, parents can help their children develop the independence and etiquette that will lead to more autonomy as the child grows older.
What is a Weaning Table?
A weaning table and chair set can create a wonderful Montessori space in your home. It is perfectly sized for your baby. You can feed them at the table and introduce them to the joy of eating while encouraging their independence and sense of self-worth. It's an alternative to a high chair, and shows your baby that they have a special place in your home designed just for them.
Why does the Montessori approach suggest a Weaning Table?
To start, weaning tables have many benefits in comparison to a High chair for children. High chairs prevent children from interacting with the kitchen because they cannot help clean up spills or breakage. This is a missed opportunity in Practical Life. High chairs also prevent children from learning how to eat and drink like adults, whereas a weaning table introduces children to regular metal silverware and acts as a dining table instead of an enclosed space.
While a high chair is great for feeding your child, a weaning table can foster the development of independent feeding skills. A weaning table allows your child to direct their own feeding and develop fine motor skills. While a high chair is convenient for you, it can make your child feel confined. A weaning table is a much more comfortable option for both parents and babies. You can rest assured that your child will feel secure and comfortable at the table.
While feeding a child is a wonderful experience, it is important to remember that it is not as easy as it looks. It takes a great deal of patience and encouragement. During mealtime, you will need to be monitoring the child closely, which can be tiring for both of you. A weaning table will help you feel more relaxed, while still keeping the child comfortable. This will help your child become a more active member of the family.
A weaning table allows your child to practice eating like an adult, and teaches them how to take pride in their achievements. In addition, the table also helps prepare your child for the Montessori approach, where they will learn to focus on independent learning. They will learn that they can achieve a great deal by learning on their own. That way, they will learn how to develop confidence and be more independent.
Weaning Tables & Independence
Weaning tables help promote independence by allowing children to sit in a chair and eat on their own. They can mimic the actions of their parents and older siblings. It is important for the child to feel comfortable eating on their own. High chairs can make a child feel segregated and detached. A weaning table allows your child to sit independently while avoiding this issue. And if the table and chair are sturdy, it will encourage independence, confidence, and a positive relationship with food.
The weaning table is also a great place to do independent play. Your child can color, paint, or read a picture book while eating their food. Unlike high chairs, which can feel like a prison for a child, a weaning table encourages independent play. You can also do a variety of other activities with your child at the table, including painting, crafts, and learning to prepare a meal (which is one of our personal favorite activities).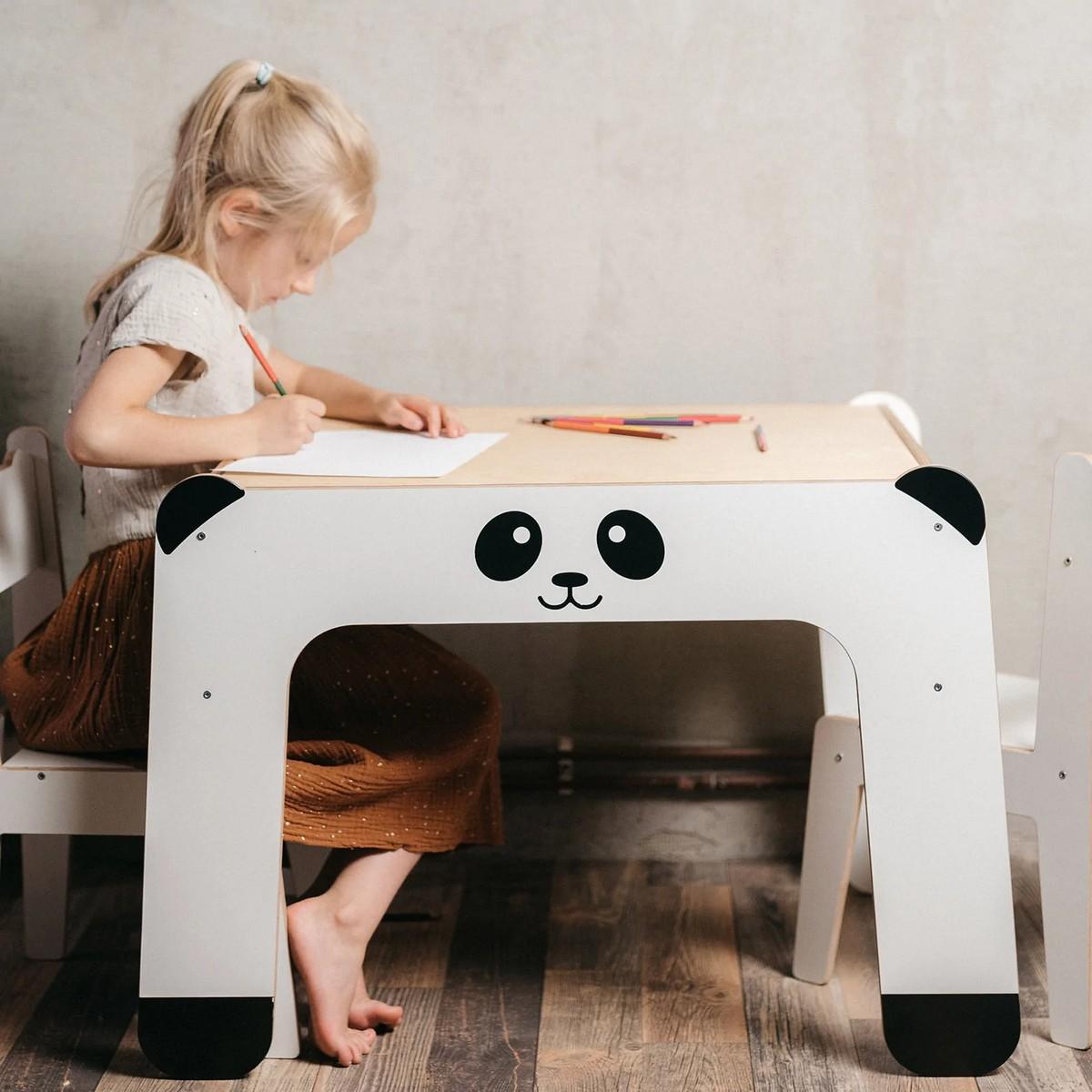 When to introduce the Weaning Table?
You will want to wait until your baby is sitting up comfortably on their own before placing them in the weaning chair. If they are still slouching over or tipping to one side, it can be uncomfortable to try to eat, and also a little scary if they find themselves face-planting in their food! This milestone usually occurs around 6-7 months. Once you see that they can sit up well, and you are ready to feed them solid food, you can introduce the table and chair.
If you have a small living space, a child-sized table is also a place to present Montessori toys or other materials that a child can focus on. Otherwise, it's ideal to have a table for eating and a different one in the play area.
When should I get a weaning table?
Around six months, your child's interest in food will begin to blossom. By this age, your child will be reaching for and watching you as you eat. In addition, he or she will have her first tooth and is seated comfortably with support. It's also likely that they will be able to drink from an open glass of water. Then, you can introduce them to a variety of foods. These may include juice, broths, purees, and even tastes of family meals.
A weaning table can also double as a busy spot for your child. This table can turn out to be a busy spot for coloring, flipping through a picture book, or making crafts. A high chair, on the other hand, is a highly confining place for your child, and a high chair can make them feel stuck.
Tips for integrating the Weaning Table into your routines
As your baby eats more solid food, they will spend more time at the weaning table. You will decide in your own family how often your little one eats at their table and how often they sit at the family table.
You may find that the weaning table is where your little one sits for breakfast and snacks, and that they join you at the family table for lunch and dinner.
You also may join them at their table when it is just the two of you eating.
When they start to feed themselves finger food, you can use a child-size dining set to serve them. Likewise, you can always offer them a small cup of water.
When it is time to eat, you can invite them to the table and they can crawl into their chair themselves.
When they are walking, they can easily set and clear their own table.
In fact, babies who cannot even walk yet will pull up to stand and wipe down their table with a small sponge! This introduction to eating and the routines around meals is accessible and supports their development through these first years.
Show your baby how you are selecting toys from your shelf and placing them on the table. When they want to leave the table, model placing the toy back on the shelf. They will imitate this habit as they grow older.
Bringing the child's toys to the table supports their practice of concentrating on one thing at a time, which builds up their attention span and tendency to persist in the face of a challenge. Once your baby is walking and can carry objects with two hands, a work table is a nice thing to have.
One of the most beautiful elements of this experience is how your little one will develop in competency and ownership. The Weaning table and chair will serve your baby's development from their first experiences with solid food through their toddler years. This set allows your little one to fully participate in the eating experience and builds confidence and independence. It encourages a positive relationship with food because of the control and thoughtfulness it offers your child. And it gives them a special place to play or eat designed just for them!
Our suggestions for Montessori Weaning Tables at A Matter Of Style
Sources and References

Moss, W. (2021) What is a Weaning Table? Available at: https://montikids.com/montessori/weaning-table/
Nilo Toys (2022) What is a Weaning Table? Available at: https://www.nilotoys.com/what-is-a-weaning-table/ (Accessed: December 21, 2022).